Innovation & Research
Because PCDL will be on the beach for 25 years, there is a unique opportunity to collect coastal data over a long period and to try different methods that can potentially make management of the beach more efficient, sustainable and more beneficial to the environment. A long term contract is attractive to research facilities as well, and Pevensey has already attracted a variety of research projects and will doubtless continue to do so in the future.
Innovation
2016 - Plastic Planking on Groynes
During the decade since the plastic panel was installed, there was a gradual acceptance that plastic did present a viable opportunity, and the Environment Agency supported the experimental use of a few planks on existing groynes at Broomhill, just east of Camber Sands, in summer 2015.
As a result of this, the Agency subsequently agreed that the experiment could be broadened at Pevensey. A company called Reluma is now making boards of recycled plastic to exactly the same dimensions as timber, and has even got the colour to more closely resemble wood. Some of these planks were then added to the same groynes as used in 2005, but the bulk of the work involved replacing rotting planks of Douglas Fir on the roadside timber wall at Herbrand Walk. In all around 1,000m or recycled plastic planking was used, saving some 17 cubic metres of hardwood.


2009 - Alternative Hardwood Species
As well as advancing the cause of recycled plastic, in conjunction with Environment Agency's Innovation Manager, PCDL took part in research project to look at the suitability of lesser known hardwoods as an alternative to the popular species such as greenheart. In December 2009, planks of tali, evuess and souge were mixed in with greenheart. Over the coming years, each timber will be inspected to see how they fare against marine borer attack by gribble and/or shipworm, as well as their ability to withstand abrasion.


2009 - Managing Beach Recharge
Traditionally, beach recharge material was always delivered over high water, recovered from the foreshore using heavy plant at low water, with the resultant stockpile growing until it was sufficient to form a new beach alignment. Then it was hurriedly put in place and graded so it could be surveyed and the volume calculated for measurement purposes. This was a relatively intensive process that occurred, on and off, 24 hours a day, 7 days a week, governed by tides. Between 2005 and 2009, the process evolved so that since 2009 beach recharge at Pevensey has used no machines on the beach. Instead, delivered sediments have been allowed to move and be sorted by the sea alone. This has been shown to have multiple benefits;
Local residents are only inconvenienced for an hour over high water. The dredger is much quieter than the machines that used to move shingle around
Sand formerly added to the crest now remains below high water, only shingle getting pushed up into berms. With less sand in the crest, there is less cliffing.
There is a saving on the unit rate for shingle as a surveyor and machines on the beach are no longer required.
Measurement is now carried out in the dredger's hopper, with an agreed amount deducted for "losses" that occur between the hopper measure and amounts previously recovered on the subsequently recovered.
This is a practical solution to an otherwise difficult calculation. Filling in front of rocks at Sovereign Harbour, not all sediment could be measured because some of it is "lost" in the voids between rocks
2006 - Use of a Box Scraper for Beach Recycling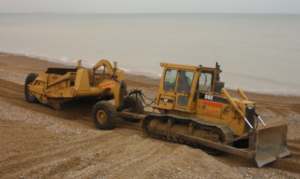 Recycling beach material requires at least three items of plant: an excavator for loading, dumptrucks for transport and a bulldozer for smoothing the material. At Sovereign Harbour and 'White Horses' in particular, recycling often requires shingle to be moved a relatively short distance, perhaps just 200 to 300m. In order to minimise the number of machines used, since 2006 a 'box' or scraper has used to move small amounts of shingle along the beach. Scrapers are usually used for bulk earth movement, and primarily soil, but adapted to be pulled by a bulldozer, approximately 400cu.m can be moved each low tide with the advantage that only two items of plant and one driver are needed. Since the transport occurs below the beach crest, it reduces the visible impact, dust and vibration caused by dumptrucks driving along the top of the beach.
2005 - Plastic Planking on Groynes 2
A second incarnation appeared two years later when a panel of plastic blocks was installed. These were now 75mm thick but only 75mm deep rather than 225mm like their timber counterparts. Thus they had to be formed into a panel by applying long bolts vertically through them. Of course having to prepare them before they are delivered to site adds extra cost, ultimately making them expensive. However, they did prove effective; Being plastic they are not subject to attack from marine isopods Abrasion rates due to wave driven shingle were half that seen on adjacent greenheart.


2003 - ATV & GPS
In order to properly manage the beach there needs to be an understanding of how much shingle is on the beach, particularly after a storm. 9km of frontage represents a challenge, especially if a high level of detail is required. With the frontage divided into 53 discreet sections, then any survey does needs to cover all areas thoroughly. Equally, the exposed beach needs to be surveyed completely over a single low tide, otherwise beach levels that have changed on the subsequent high water will skew resultant volumes.
Traditional survey techniques would not allow a survey to be completed, so the idea of using GPS mounted on an ATV (all-terrain vehicle) was examined and found to work well. There was, however, one further problem to overcome. Because the GPS receiver is fixed to the ATV it cannot be kept perpendicular to the ground when traversing the main profile of the beach.
Fortunately, survey company McCarthy Taylor, who provided the ground modelling software, were able to write a sub-routine within the program that could examine observed coordinates and correct them accordingly. So, in less than two seconds, all points are corrected before being modelled and volumes extracted.
2003 - Plastic Planking on Groynes
Groyne planks have traditionally been made of tropical hardwood or oak. In an attempt to find a more environmentally-friendly alternative, planks made of recycled plastic are being trialled. The first attempt used individual black planks at Herbrand Walk fishing station, where they were bolted to an existing groyne alongside a new greenheart plank. The initial experiment was far from successful. Ideally boards should be long enough to span at least three piles, allowing them to be fixed at several points. These were short so could only be attached at either end. They were also only half the thickness of a 75mm wooden plank, so far less rigid. As the picture below shows, the plastic plank deformed so much that shingle could pass between the two plank types.


2002 - Tyre Bales as Substitute for Beach Material
In November 2002, 350 tyre bales containing 40,000 used car tyres were buried in the beach in front of the Environment Agency depot on Coast Road. The trial is being used as part of a DTI scheme to examine whether bales of compressed, scrap vehicle tyres can help offer sustainable, economic and environmental solutions to some port, river and coastal engineering problems.
More details on this ongoing experiment can be found in the following fact sheets:
Research
2015 - 2016 The Crown Estate
In 2006 The Crown Estate gave the project permission to place some of the sand dredged from Sovereign Harbour close to the shore near PBSC to see if would stay close to the shore. PCDL beach surveys completed since 2003 suggested that sand levels between low water and the toe of the sea defence embankment were gradually falling. Were this to continue indefinitely, then the long term effect on the defences could be disastrous. Normally all sediment dredged from the marina entrance every year is dumped 2.5km offshore, at a level 13m below low water. Although a few loads of sand could be utilised, it wasn't until an extended placement area was negotiated with the MMO (Marine Management Organisation) in 2015 that meaningful volumes could be re-located. Details of the 2015 deliveries are given in the "Latest News" section of the site.
Work in May 2016 successfully used so much sand that it created problems for PBSC and its members as in places sand levels close to low tide were raised about 1m above normal. Through discussions with the Club, an alternative placement area and revised technique will be used in future years to ensure sailing is able to continue uninterrupted.
2014 - 2015 Birkbeck College
Dr Paul Elsner, Lecturer in Geographical Information Science and Physical Geography started experiments to evaluate beach monitoring using a digital camera mounted on a small UAV (unmanned aerial vehicle). This culminated in September 2015 with an area of beach to the east of Normans Bay East being surveyed simultaneously using 5 different survey techniques, to try an evaluate their relative accuracies and hence suggest the most suitable one given variable, time, access and budgets.
2006 - University of Brighton
In 2006 a PhD study started to investigate the conditions under which rapid beach erosion east of Sovereign Harbour occurs. The study used frequent GPS surveys of the area and involved wave data collection and beach monitoring using video mounted in Martello tower No.64.
2005 - 2006 - University of Brighton
Researchers at the University of Brighton undertook a Defra funded project "Impacts of Permeability on Beach Performance FD1923 (2005 - 2006)". This involved field measurements on Pevensey Beach and laboratory experiments.
2003 - 2007 University of Sussex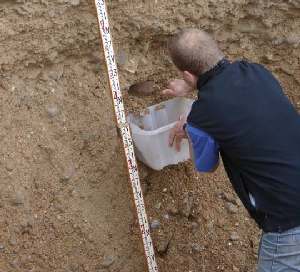 The University of Sussex carryed out research under the EU Interreg funded project: Beaches at Risk (BAR 2003 - 2007). The project is particularly interested in the behaviour of mixed sand and shingle beaches and their fauna and flora and has used Pevensey as a field site for a range of studies.
Pevensey Beach was sampled in a study to characterise the beaches of Southeast England and the results of this study can be found here.
Investigations into the beach material that can be found at different levels within the beach have unearthed material that was on the beach face during the end of the 19th century. Based on detailed sampling of the beach material and the analysis of the grain size, sand content and composition of the gravel no trend could be observed. This means that observations that suggest that the beach has become finer or coarser are dependent onthe beach surface material that can change from day to day, but that the bulk properties of the beach have not changed over the last century. Additional information can be found in a brief description and a more detailed report about the investigations.
Some of the early experiments on longshore transport carried out during the project were located at Pevensey. A description of these experiments can be found in chapter 5 of a report on longshore transport.
2003 - 2006 Southampton Oceanography Centre
Scientists from the Southampton Oceanography Centreare monitoring the water quality in the boreholes associated with the tyre bale experiment and undertake laboratory experiments to model the field measurements.
2003 University of Southampton
An investigation into the calculation of beach volumes using GPS surveys was carried out by Paul Foley in 2003. The abstract of his MRes can be found here.
2002 onwards Birkbeck College, University of London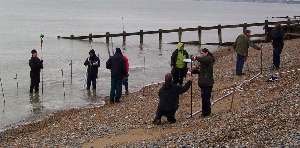 Birkbeck college is using Pevensey Bay for a number of undergraduate and postgraduate projects, investigating beach behaviour, porosity and beach water levels under different tidal conditions.
The most interesting to date was a study by Jonathan Booth in 2004. His report into an analysis of deposited beach recharge mounds; "Spatial Variation in Sediment Size within Beach Recharge Mounds: A Mixed Sand and Gravel Beach Recharge Scheme" can be found here.
2001 - 2004 University of Bristol
A probabilistic analysis of beach management using Monte Carlo simulations and neural networks was carried out by Alice Johnson between 2001 to 2004. Abstracts of her PhD and a conference paper can be read by following the links.