Awards
Awards are a way to showcase the operation of not only Pevensey Coastal Defence but also the project itself. None of these awards would have been possible without the willingness of all stakeholders to work together constructively for the good of the community and the environment. They also reflect also how the scheme was initially setup by the Environment Agency and the close collaboration that has existed between PCDL and the Agency ever since.
Considerate Constructors Scheme
The site has been a member of the Considerate Constructors Scheme since 2003 and in all has won 15 awards.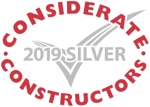 In May 2018 the site was awarded its sixth Silver Award, making it the most successful site in the scheme's history.

Going to just 7% of UK construction sites, these awards recognise efforts made to minimise inconvenience in the immediate neighbourhood and a commitment to raise standards of site management, safety and environmental awareness beyond statutory duties.

As well as four Gold Awards, there have also been five Bronze Awards.
Other Awards
2009
The Pevensey scheme was also shortlisted for an award in the category of Best UK Operational Project in the Public Private Finance Awards held in London.

2006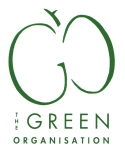 Pevensey Coastal Defence Ltd won the Green Apple 2006 Silver Award in the Building & Construction (Green Practices) category.

Run by the Green Organisation, an independent, non-political, non-activist, non-profit environment group, they are dedicated to recognising, rewarding and promoting environmental best practice around the world. The award was presented in the armoury of the Tower of London by David Bellamy.

2002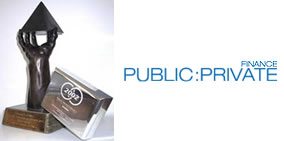 Public Private Finance Awards, Best Environment Project above £20 Million.

The Public Private Finance Awards are the biggest and most prestigious event in the public private partnerships calendar, involving all key industry figures from both the public and private sectors.

2001

Contract Journal National Construction Industry, winner of PFI/PPP Award.

The Contract Journal Construction Industry Awards are the most prestigious in the construction industry. Developed with the industry for the industry, they reward innovation and excellence in British construction.